Description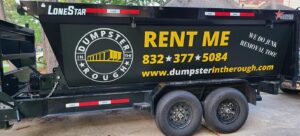 Per Ton Overage Fee
NOTE: Per company policy, we are not required to share any dump receipts after rental. All services are agreed upon up front in terms of total costs of services and weight. The amount the dump stations charge us are the cost of us doing business.
All Dumpster In The Rough (DITR) dumpster rentals, not just the Per Ton Overage Fee, come complete with default features as mentioned below. These items can be upgraded according to the emailed/printed dumpster rental agreement.
Dumpsters offered for rent by a company that is FULLY INSURED
2 Tons of weight (additional prorated per ton fee charged if over at time of weighing)
Ability to fill the bin to the designated fill line as discussed ahead of time or marked on the bin
25 miles radius from Humble, TX. (additional per mile rate may apply)
Easy to sign electronic (or printed) rental agreement
Friendly, recognizable staff
Reliable and trustworthy service
Great communication (setting ETA expectations with a text or call)
Dumpster Sizes
We offer varying types of dumpsters based on size and availability. The bin sizes we offer can often be upgraded. The available sizes offered at this time include 7YD, 10YD, and 15YD.
For comparison, each cubic yard is approximately equivalent to the size of the average washing machine.
Upgrade products are available for options, such as the following:
Upgrade to a larger size bin
Prorated overweight fee
Added mileage
Added per day fee
We make every effort to ensure you are happy with YOUR dumpster rental. We know that having a clean space is very important. You might be doing demolition work, spring cleaning, hoarder home clearing, or any other type of cleaning; therefore, DITR is here for YOU.
In Conclusion…
Please give Dumpster In The Rough the opportunity to serve you, your family, your business, or government/city institution. We have several repeat customers and a regular basis and have great Google Reviews.
Be sure to call ahead to verify availability and verify all delivery details (e.g., whether gated, entry code, delivery instructions, drop off notes, GPS location, duration, size needed, weather conditions).
See you really soon (and next time too)!